A Very British Blog Tour
Authors,
Nancy Jardine
,
Mark Patton
and
Ailsa Abraham
have invited a group of British authors to take part in 'A Very British Blog Tour.'
Q. Where were you born and where do you live at the moment?
I was born in Cheshire, in the village of Bebington on the Wirral Peninsula which sits on the map like a tilted rectangle between Liverpool's River Mersey and Chester's River Dee.
Wirral is historically a marginal area, with placenames partly Anglo-Saxon and partly Viking. Wallasey, the northern corner, was quite separate and its name means "the Island of the Strangers" so I assume the earlier blokes and their families holed up there when the invasions happened - and that it's nothing to do with my Nanna living there!
People think of Wirral as a dormitory for Liverpool and Chester but it has a distinct character that in some ways is more related to the northern corner of Wales, where the local accent, for instance, is noticeably not Welsh but a mix of Scouse and Cheshire. For a while we were postcoded through Liverpool but it has now reverted to Chester.
There is an enormous list of famous people who were born or lived on Wirral in their formative years: it includes Daniel Craig (yes, Mr Bond), presenter Fiona Bruce, sportsmen Matt Dawson, Austin Healey, Chris Boardman and Ian Botham, poet Wilfred Owen, cartoonists Bill Tidy and Norman Thelwell, actors Eric Idle, Glenda Jackson, Jan Ravens and Pat Routledge; not forgetting Emma Hamilton, the mistress of Admiral Horatio Nelson; and Georg Frideric Handel who sailed from Parkgate en route to Dublin for the premiere of his oratorio
Messiah
.
That list is by no means comprehensive - so I have a lot to live up to.
Q. Have you always lived and worked in Britain or are you based elsewhere at the moment?
I've always lived in England. However, I was startled to find that I'm rather a mongrel! One of my forebears was a Lancastrian ironfounder, one a Liverpool shipowner, one probably of Irish descent who came from London to make candles at Price's Bromborough Pool Works, and still another was a German diplomat with a French wife, whose son (my great-grandfather) was by turns a coaling merchant in the Canary Islands, a newspaper editor, a foreign correspondent, and a Liverpool detective (a policeman, not a defective!)
Q. Which is your favourite part of Britain?
Where I live now, between the Lake District and the Yorkshire Dales, though I'm very fond of Chester. I love the sudden appearance of the Howgill Fells when I'm coming home on the M6. They are strange hills, quite different from the cragginess of the Lake District or the limestone sweeps of the Dales. Alfred Wainwright called them "sleeping elephants" though for most of the winter their rounded, wind-scoured grasslands are lion-tawny in colour rather than the grey that A.W's phrase conjures up.
Q. Have you 'highlighted' or 'showcased' any particular part of Britain in your books? For example, a town or city; a county, a monument or some well-known place or event?
I set "Against the Odds" on the Wirral and in Chester, with a major scene taking place on the City Walls and at the Roman soldiers' shrine of Minerva on the other side of the River Dee at Handbridge.
The first third of "COACHMAN" is set in Carlisle, around the Cathedral, the Crown and Mitre coaching inn, the Post Office, McReady's Theatre and the Blue Bell. Of course the area has been re-built more than once since then. Of the theatre, only the facade survives, and although the Crown and Mitre is still thriving it doesn't look at all like the original.
The event that I showcased in the later part of the book was the opening of the London-based railways in 1838, which resulted in the now forgotten collapse of the horsedrawn coaching trade.
"The Forthright Saga" is more loosely set in "a" Cumbrian market town, but I refer to it as Dangleby and I'm not going to divulge which town it's based on!
Both "COACHMAN" and "The Forthright Saga" have been entered for the Lakeland Book of the Year Awards on the basis of their locations.
Q. There is an illusion - or myth if you wish - about British people that I would like you to discuss. Many see the 'Brits' as 'stiff upper lip'. Is that correct?
I don't think it is. I am moved to tears by weddings as well as funerals, and very often by music, yet I know some people who are not touched at all by any of these things. People are people, with different upbringings and experiences, and they vary immensely in their emotional range and reactions. You can't paint all British people as being like public face of the Royal Family. Some of them are more like the family of Mrs Brown, the Royles, or Citizen Khan.
I am not saying I'm one of those who will confide personal secrets to strangers or strip their souls naked for TV cameras, but nobody watching a British football crowd or the spectators at the Grand National or the audience at The Last Night of the Proms would ever call them "reserved"! Still, my husband doesn't cry and there are times I'd really give a lot to be able to stand back like that!
Q. Do any of the characters in your books carry the 'stiff upper lip'? Or are they all "British Bulldog Drummond" sorts?
I tend not to categorise them that way. They may be reticent about telling other people about what's going on in their heads - but that doesn't mean they are cliches who are unmoved by pain or unsympathetic to what others are feeling. My lead female character in "Against the Odds", for instance, suffers badly from being unable to verbalise her emotions. In "COACHMAN" the young wife has a secret that she doesn't tell her husband until a long way into their relationship.
Q. Tell us about one of your recent books?
In COACHMAN, George Davenport is a young English driver, born and bred to the trade, whose skills are at their height during the "Golden Age of Coaching" in the 1830s. He's moved about the country to gain experience and better himself and at the beginning of the novel he is on his way from Carlisle to London hoping for a share of the lucrative trade in and out of the capital. For the first time in his life, though, he's got someone else to consider – his landlady's daughter Lucy Hennessy, to whom he has proposed marriage. Lucy has a rough background – how rough, George doesn't find out until much later. The tensions in their relationship, and others', are about the conflicts of work and money versus love and responsibility.
Q. What are you currently working on?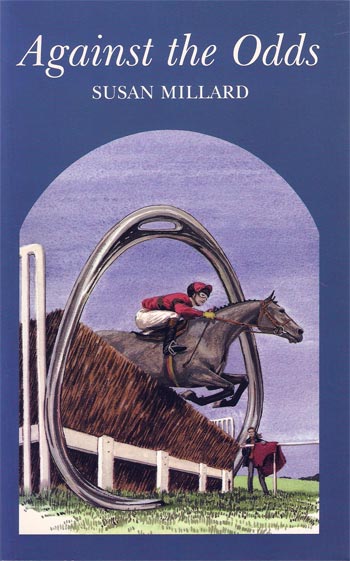 I'm preparing to work with an editor on a poetry pamphlet, "Ash Tree" which
Prole Books
have accepted for publication later this year. I'd known Brett and Phil for some time via the Great Writing Web site which Phil and I moderate. They have published several of what I've called "The Naomi poems" about the terminal illness of my grand-daughter who died in 2010. I was reluctant to offer them the whole sequence for fear of seeming to presume on their friendship. However, they have been very enthusiastic and I'm looking forward to working with Brett to polish the collection.
Having re-released "Against the Odds" this year as a digital edition, I'm working on a sequel. Twenty years on, my characters have developed and changed. Then they were working in racing, and expecting to move from racing and training into breeding racehorses. That hasn't gone to plan, and they've had to move north into a less affluent agricultural area of Cumbria. With their children now in their late teens and becoming ambitious themselves, there is plenty of scope for explosions!
Q. How do you spend your leisure time?
When I'm not writing or designing web sites, I carriage-drive one or other of my two Fell ponies, Ruby and Mr T.
I also enjoy playing the harp - not a gilded concert monster, I hasten to add! When I was a teenager I used to sing in a folk band, and this is a folk harp with 34 strings. It stands about 3 foot 6 (1 metre) tall and makes a most lovely sound.
Q. Do you write for a local audience or a global audience?
*whispers* I write for me. I write the books I would like to read, and just hope that other people also enjoy them.
Q. Can you provide links to your work?
Of course! All the following pages have links to purchase and/or read a sample on Amazon.
COACHMAN
The Forthright Saga
Dragon Bait
Against the Odds
One Fell Swoop
Hoofprints in Eden


Other authors who are taking part in this blog hop
Geoff Smith
Helen Riebold
Linda Gruchy